Pronouns are visible in the profile card, which is available where your name is displayed within certain Avenue to Learn tools such as Discussion posts and Assignment submissions: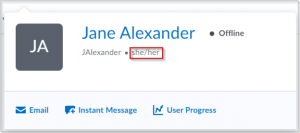 The pronouns are currently not displayed in the Classlist – a request to add this feature has been submitted to application developers. These pronouns are saved to Avenue to Learn and are not currently linked to any pronoun settings in other systems on campus.
Please review important information for students regarding McMaster's Code of Student Rights and Responsibilities.