Importing a Zip Package
This FAQ is part of a larger article detailing how to Import/Export/Copy Components.
1. Enter the course you wish to import your zip file. Click on Course Admin in the top right hand corner.
2. Click on the Import/Export/Copy Components button in the Site Resources section:

3. You'll then be given an option to import from a Learning Object Repository or a course package. If you need to upload a .zip file, select "from a course package".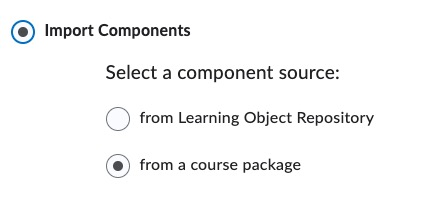 4. Select the file you wish to import.
5. Choose whether to Import All Components or Select Components and then follow the prompts.
Note: If you import course components with names that already exist in the course, or you import multiple components with the same name, duplicate names appear; they are not overwritten. For example, if your course contains a discussion topic called "Exam Review" and you import a course package that contains a discussion topic called "Exam Review," your course will contain two topics called "Exam Review". When importing a grade scheme, a scheme not associated to a grade item within the course offering is only copied if the grade scheme is unique (i.e. there are no duplicates which match on name and ranges).