To take a Quiz on Avenue to Learn, use the Quizzes tool. To take a Quiz follow these steps:
1. On the navbar under Assessments, click Quizzes.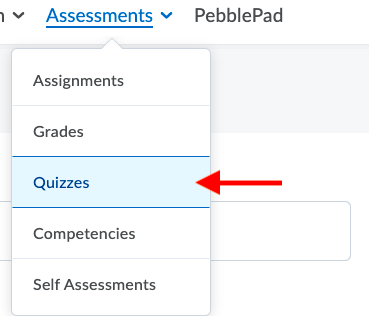 2. On the Quizzes page, select the quiz you want to take.

3. Read the instructions and details for the quiz carefully. Click Start Quiz! When you are ready

Note: If you have any accommodations, the accommodations icon appears next to your quiz time. This icon will not appear if you have any quiz-specific accommodations.
4. Answer each question. Your answer should automatically save as you complete the questions.

You can see which questions have saved answers in the Questions section of the quiz's left panel.

5.  To go back to a specific question, click the question number in the quiz's left panel. You can also, click Next Page or Previous Page to navigate between pages.
6. Click Submit Quiz when you have finished the quiz.

Note: Your course may require you to use the Respondus LockDown Browser® to take quizzes. To download Respondus Lockdown Browser for free, click the Respondus LockDown Browser link in the Quiz Requirements section. You will then be able to launch the quiz with Respondus LockDown Brower. If you have already installed the Respondus LockDown Browser, the Start Quiz page will open automatically within it.
For more information on how to see quiz feedback please see our article on 'How do students view Quiz answers and feedback?'
Tips for Quiz-Taking on Avenue to Learn
Read through the quiz instructions carefully before beginning the quiz.
Note how much time you have allotted to take the quiz. Keep your eye on the timer on the top-left corner of the quiz. The timer will start flashing when you have 5 minutes left to submit the quiz.
Make sure your answers save before you move on to another section or submit the quiz.
For more FAQ's on quizzes please visit our vendor's documentation: https://community.brightspace.com/generic/s/article/Learner-FAQ-Quizzes
Vendor Video: