Respondus LockDown Browser and Respondus Monitor
Respondus LockDown Browser is a downloadable program that allows  a student to take an Avenue to Learn quiz in a secure environment. Quizzes can be set to use LockDown Browser or LockDown Browser and Respondus Monitor. Respondus Monitor is software that uses a webcam to document what is going on when a student writes a quiz or exam.
Respondus Lockdown Browser prevents students from visiting other websites, copying, printing or accessing other applications during an online assessment. Note that some of the restrictions can be customized to allow limited access. Respondus Monitor adds webcam and microphone functionality to LockDown Browser to document students during online quizzes and exams. Tests created for use with LockDown Browser will not be able to be completed in alternate browsers.
NOTE: If you are using Respondus LockDown Browser set your special access requirements first, otherwise you might not be able to configure new special access rules.
What to consider before using Respondus
Respondus monitors students while they are completing online assessments with an aim to ensure academic integrity. However, the decision to use Respondus should not be taken lightly. Please ensure you have considered the following: 
Rationale: do you really need to use online proctoring? Unless a proctored assessment is a requirement for a professional certification, you

should consider

alternate assessments or, if you rely on quizzes and tests, refer to

our

Guide to Tests and Exams Using

Avenue to Learn

on how you can configure tests and quizzes to increase fidelity without having to use a proctoring technology.

 

Communication: h

ave you included a statement

as to your rationale and use of

online proctoring

in your course syllabus

?

Will you ensure instructions on how to use are provided to students along with a practice quiz?

 

Accommodations

: Quizzes that use

Respondus

can be

configur

ed on

Avenue to Learn for accommodation

purposes, but you will also need to develop a Plan B for certain accommodations or if

technical/connection issues arise.

Accommodations through special access will need to be configured before enabling Respondus, otherwise the accommodation may not be reflected in Respondus.


Mental health

and well-being of your students:

consider the added layer of anxiety online proctoring can promote and how to support students through this

.

 
Vendor Documentation
Avenue Specific Information
Within Avenue to Learn, follow these steps to access Respondus LockDown Browser:
1.Put in a ticket with Avenue Support
2. Scroll down to select Respondus LockDown Browser Request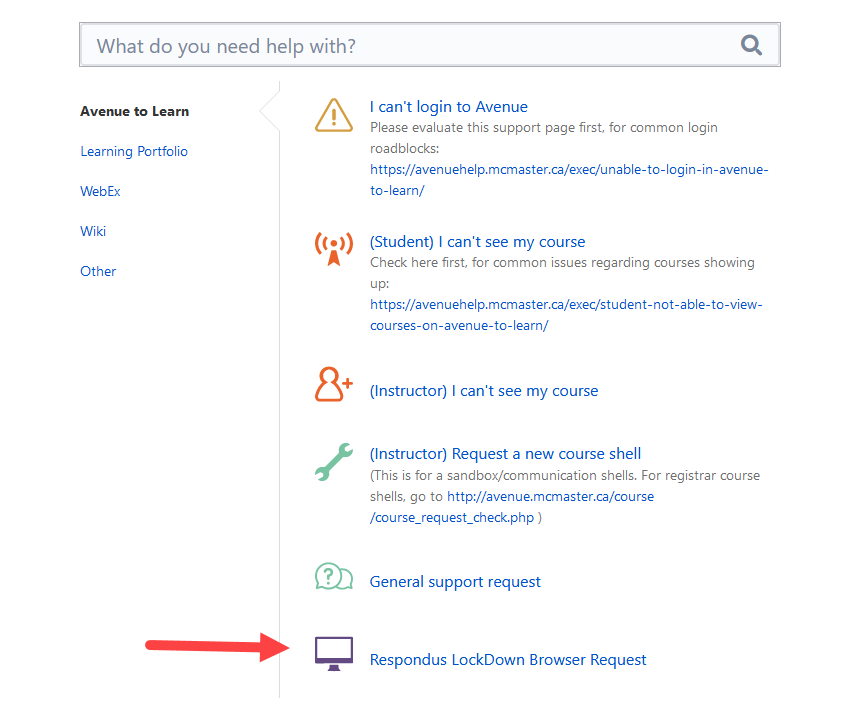 3. Upon completion of that form we will wait for you to answer the questions in the auto response.
4. Once you've indicated that you have added the proctoring information to your syllabus, had a conversation (or plan to have a conversation) about proctoring with your class, plan to have sample test to help students become acquainted with the software, and will have an alternate plan in place to accommodate those who cannot complete the test through Respondus, we will make the connection.
5. Our response will indicate that LockDown Browser is ready to configure in your course, and will provide some links to resources for you and your students.
6. Go to Assessments > Quizzes
7. Edit a quiz that you want to use Respondus LockDown Browser with by clicking on the quiz name. Alternately, create a new quiz.
8. Ensure you have completed setting Special Access first as we have seen some isolated instances where Special Access became unavailable after enabling Respondus LockDown Browser.
9. Once you are done saving the quiz, return to the Quizzes page by clicking Save and Close.
10. On the Quizzes page, select the LockDown Browser tab.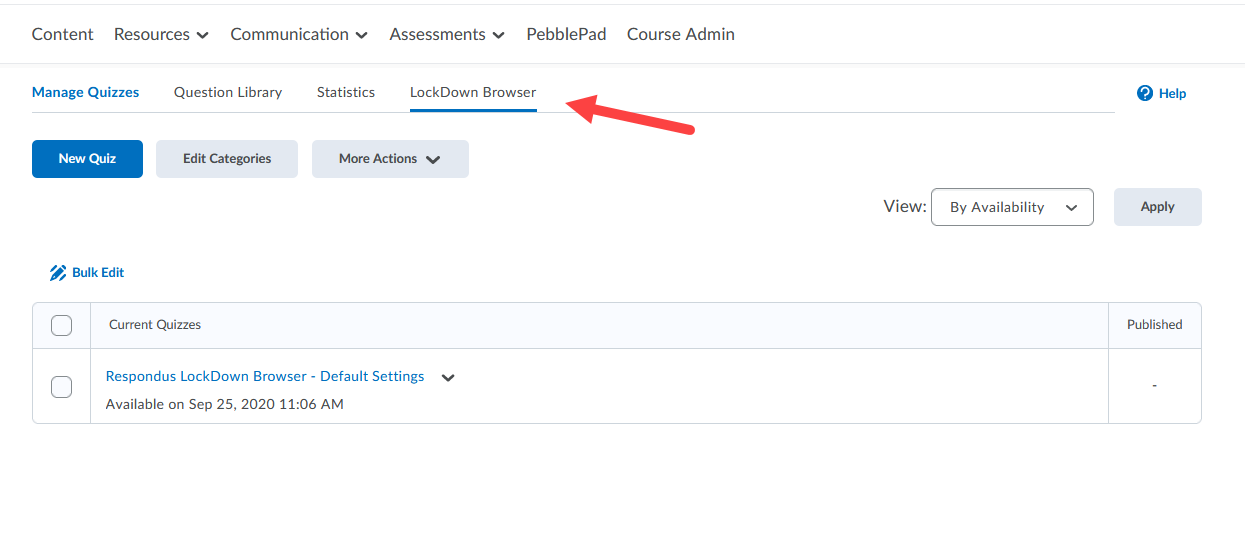 11. For the quiz you wish to enable LockDown Browser with, select the downward facing arrow (chevron) before the name of the quiz, and select Settings.

12. You will have to select Require Respondus LockDown Browser for this exam for LockDown Browser to be enabled.
(Optional) enable Monitor Webcam by selecting Require Respondus Monitor for this exam. Respondus Monitor turns on the webcam, and captures video while the student is working remotely on the quiz.

(Optional) Further configure how LockDown Browser functions by making changes to Advanced Settings, including the ability to allow iPad access to the quiz.
You have now enabled Respondus LockDown Browser for this particular quiz.
FAQs