Creating a Quiz
Customize the Submission View for a Quiz
On the Manage Quizzes page, from the context menu of the quiz you want to customize the submission view for, click Edit.
In the Submission Views tab, do one of the following:
1. To edit the default view, click the Default View link. Make your changes and click Save.
2. To create a new view, click Add Additional View. Customize your view and click Save.
Click Save and Close.
Managing and Grading a Quiz
Editing a Quiz Question While a Quiz is Active
Manually Grading a Quiz
Give each learner a random set of quiz questions
For more information on how to Randomize Quiz Questions, visit: https://avenuehelp.mcmaster.ca/exec/randomizing-quiz-questions/
Paging Quiz Questions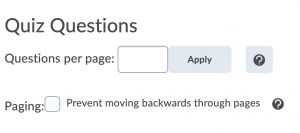 When editing your Quiz, scrolling down to the Quiz Questions sections under the Properties tab, will allow you to section how many questions you want per page and section the Paging option.
You can enter how many questions you want per page – remember to click Apply once you've entered the number of questions you want per page.
You can prevent students moving backwards through a quiz by selecting the Paging option. Once selected, learners will not be able to move backwards while attempting the quiz – once they've moved forward to the next page in the quiz, there is no going backwards to a previous page.
For example, if you would like 1 question per page and for the students to not be able to go back to previous pages, the options here should look like:

Remember to save any edits you make in your quiz.