July 2019 Update
Accessibility – Compliance with WCAG 2.1
As part of D2L's (the company that designed and developed Avenue to Learn) ongoing commitment to design and develop against WC3 accessibility best practices, there are updates to our shared web components, such as fonts, buttons, menus, and input fields, to ensure they align with WCAG 2.1 standards. These changes include:
Text color change from #56A5C to #494C4E for our standard font styles, which is WCAG Level AAA compliant.

Resetting clients to "Normal" for their Org default size to ensure that default configurations have appropriate legibility. In addition, the configuration option for setting a font override at the Org level has been removed. Users can still change their personal font preferences using Account Settings and existing individual user overrides are retained.

Changes to the color, borders, hover and focus styles of other web components such as buttons, menus and input fields to ensure they comply with WCAG 2.1 color contrast requirements for non-text components.
These changes will improve readability and provide better ability to meet contrast compliance with non-text elements. It is D2L's intention to be an industry leader in inclusive design, and these changes improve support for individuals with alternative fine motor, cognition, and low vision needs. These compliance changes contain no changes to workflows; all changes are to the look and feel only.
Activity Feed – Pin multiple posts and Support for courses with sections
Instructors can pin more than one post to the top of their Activity Feed. Previously, only one post could be pinned at a time. This allow instructors to highlight more than one important post at a time to ensure that students do not miss critical posts.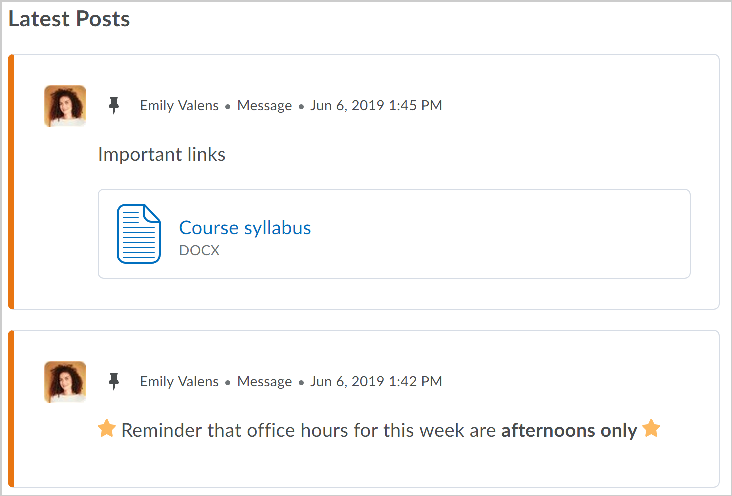 Activity Feed posts can now be sent to specific sections in a course. Previously, posts and comments were available to all users in a course and could not be restricted based on section. If an instructor is enrolled in more than one section of a course, they can specify which sections can view the post. Instructors can also filter their course activity feed by a section, allowing them to focus on posts from a specific section.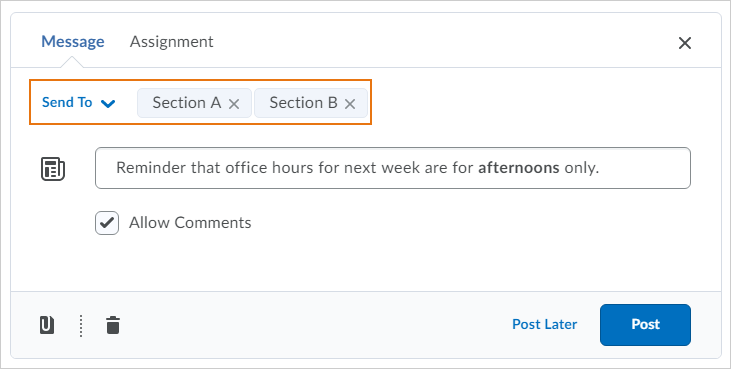 NOTE: You must manually request sections if you wish to have sections in your Avenue to Learn course. Simply request your course as normal, but follow up with a request to https://avenue.mcmaster.ca/support/ to request sections.
Assignments – Edit category improvements and Eraser added to Annotations
An Edit Categories option is now available in Assignments to allow users to edit all categories from one page. You can add, modify, delete, and sort categories, as well as manage unused categories. If a category with assignments is deleted, those assignments are added to the No Category area.
An eraser has been added to the Annotations tool bar to allow evaluators to remove ink annotations made when evaluating assignment submissions.
Class Progress – Default indicator change
Class Progress has two Content tool indicator graphs: Content Visited and Content Completed. In this release, the default is switching from Content Visited to Content Completed to better reflect learner progress through the completion of Content activities. The change will apply to all users who utilize the default settings of Class Progress. Any users that have overridden any of their Class Progress indicators will not see a change. Users who want to have Content Completed appear can switch indicators using the Class Progress settings in their course.
Navbar – Display user initials when there is no user profile image
If a user does not upload a user profile image in Avenue to Learn, the navbar now displays the user's initials in the user-profile badge. This change occurs for all roles and displays in the Avenue to Learn navbar and Activity Feed. Previously, if a profile image was not uploaded, a blank user image displayed.
New Content Experience – Enhanced table of contents for learners
To improve the new Content experience for learners, the table of contents contains the following usability enhancements:
When clicking the table of contents icon, the menu panel now appears inline on the page, displaying selected content in full. Previously, selected content was partially obscured by the menu.

The state of the table of contents persists from session to session, allowing learners to easily resume from where they left off. For example, an open module in the table of contents remains open after logging in again.
Surveys – Improvements to the learner experience
To improve the learner experience when taking a survey, the following updates are now available:
The primary button when completing a Survey has been updated from Save Responses to read as Submit Survey. Learners will continue to be prompted to confirm their submission when they submit the survey

Learners can still save survey answers manually. The Save button now reads as Save Responses

A new Back to Questions button is displayed when attempting to submit a survey with unanswered questions

While learners are taking an anonymous survey, an alert appears at the top of the survey indicating that the survey is anonymous and their user information will not be tied to their responses